Hi! I'm David Hoover. I'm about to turn 43 and I've spent most of my life in Cleveland, Ohio.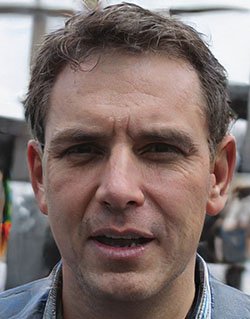 My parents' house was located near the city's industrial areas. My Dad was a factory worker responsible for making mass production of household appliances at an assembly line. After finishing high school I entered Ohio State University to get a degree in Engineering & Business. Later, I decided to start my own appliance repair business.
I was sure I had found a fantastic way to earn a living. Fortunately, Dad supported my business idea. Together we opened a small repair shop and waited for the first customers to come. At first, things were moving extremely slowly: no one had even heard about our family-run shop, though offered services were not overpriced and we kept spending on advertising, high-quality diagnostic equipment, and a car. Despite all difficulties in the past, now we are happy to take care of the in-home appliance repair needs of our customers. Our goal is to complete the repair on-site, on the customer's first visit, if possible. Our services include but are not limited to repairing washing machines, dishwashers, refrigerators, and air conditioners.
Why did I decide to create a website for repairing household appliances and describing error codes?
In 2003, Cleveland ranked America's 1st poorest city. One in three people in Cleveland is living in poverty, according to data from the U.S. Census Bureau. At the same time, the city population of almost 397,000 inhabitants makes Cleveland the second-largest city in the state. 132,000 residents are below the poverty line, living from hand to mouth.
Once my parents were faced with the grief of losing everything but the family. They were in grave financial troubles, which blocked me from getting into the university of my choice. My parents always wanted me to be a first-generation university student in our family. Keeping it in mind, I try to help people to cope with difficult situations. Many city residents cannot afford the repair shop services since they appear to be very expensive. Sometimes the repair can be completed for 50% of the cost of a new item or even more. Since household appliances are the cornerstones of modern life, I collected and systematized the necessary information on this site to help customers find simple repair solutions. Washing machines or dishwashers can be a huge pain when they break, yet they are easy to repair. But not everyone knows about it. Modern household appliances often flash an error code to signal a problem. When you see a code number flashing, look it at my website to identify the malfunction quickly and find ways to solve the problem.
I believe the given information will lend a helping hand to you as well.