Bosch brand has established itself as a reliable manufacturer of washers. The appliance is widely used at home.  Bosch Axxis model shows a particular demand and relevance. Many purchasers highly appreciate this offer. What causes the model's popularity?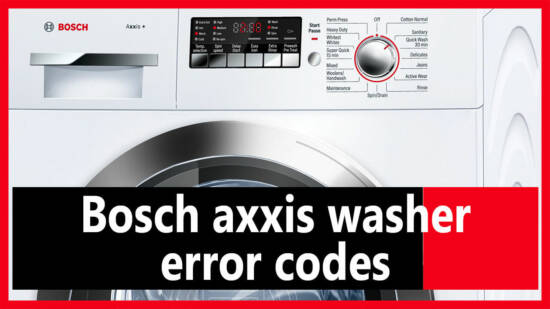 There is a huge list of advantages and specific technical characteristics of the equipment. The main advantages include:
a wide range of programs for selecting the required wash parameters;
excellent quality of materials used in manufacturing;
high level of laundry cleaning during washing;
electricity and water consumption minimization due to the specifics of the washing process;
low noise level.
Besides, users note that this device is very reliable and durable. But sooner or later the Bosch Axxis washer will give out error codes. There is no need in searching the instructions, we give a complete list of all possible codes for this model. Also, there is the deciphering of the problems that provoke failures.
Using the table below, you can understand how to act. Some situations require professional help. Also, often all you need is to correct the operating mode of a washer.
Display
Fault
Measure
E:16
Door not closed properly.
Check to be sure no laundry is caught in the washer door. Close the door securely.
E: 17
Water tap not turned on.
Turn on water tap.
Water supply hose kinked or pinched closed.
Eliminate the cause, replace the hose if damage.
Strainer in water supply hose clogged.
Clean the water inlet strainer. Cleaning the water inlet strainers
Water pressure too low.
Eliminate the cause.
E:18
Too much detergent used or non-HE detergent used.
Use less detergent for future loads. Only use HE detergents.
Pump is blocked (obstructed).
Clean the washer drain hose and/or the drain pipe.
May need to perform pump maintenance to clear blockage. Cleaning the drain pump
Other displays
Turn off machine, wait 5 seconds and turn on again. If the display shows again, call customer service.