Washing machines by Bosch are proud of its high quality and reliability. When it comes to choosing a home assistant, many housewives select such models as Bosch Maxx. The release includes Maxx 4, Maxx 5, Maxx 6, Maxx 7.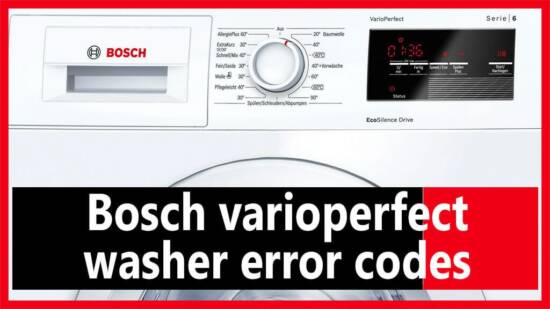 Or rather Bosch Logixx 8 Varioperfect. However, in even the most reliable washing machine, sooner or later faults occur. The advantage of modern models is the self-diagnosis system. This one allows users to determine the nature of problems without calling the master.
Bosch 8 Varioperfect washing machine is a modern model, equipped with a display. In the table below, we listed problems that may arise during the operation of this model. Check other common error codes of the Bosch Varioperfect washing machine here, too.
Information on the display panel depending on the model
E:16
– Close the washing machine door properly; laundry may be caught.
E:17
– Turn on the (cold water) tap fully, supply hose kinked or trapped;
E:29
– Clean the filter, water pressure too low.
E:18
– Detergent solution pump blocked; Clean the detergent solution pump
– Drainage hose/waste pipe blocked; Clean the drainage hose at the siphon
– Heavy foam build-up, status indicator Wash flashes.
E:23
– Water in the base tub, appliance leaking.
A:10
– Open the (hot water) tap fully.
– Inlet hose kinked/trapped.
– Water pressure too low. Clean the filter
– Hot water hose not connected; appliance will operate using cold water only. Ignore information, only for the first wash cycle.
CL
– Childproof lock activated: to deactivate
What to do if…
Water is leaking out
– Attach/replace the drainage hose correctly.
– Tighten the screw connection of the supply hose.
No water supply. Detergent not dispensed.
– not selected?
– Tap not turned on?
– Filter blocked? Clean the filter
– Supply hose kinked or trapped?
The appliance door will not open.
– Safety function active. Programme stopped?
– Rinse Hold (without final spin) selected?
– Can be opened by emergency release only?
– Door locked after the washing machine is switched off: Switch on the washing machine and wait for 5 seconds.
The selected programme does not start.
–  or  time selected?
– Washing machine door closed?
– Childproof lock active? Deactivate
The detergent solution is not drained.
– Rinse Hold (without final spin) selected?
– Clean the detergent solution pump
– Clean the waste pipe and/or drainage hose.
No water can be seen in the drum.
– Not a fault. Water remains inside below the visible area.
Spin results not satisfactory. Laundry wet/too damp.
– Not a fault. The spin control system has stopped the spin cycle. Uneven distribution of laundry.
– Distribute large and small items of laundry evenly in the drum.
– Reduced  Ironing selected?
– Selected speed too low?
Programme duration changes suddenly during operation.
– Not a fault. The program time can vary according to the distribution of laundry, with it, therefore, being possible for the display panel to show adjustments in the duration.
Spin cycle performed several times.
– Not a fault. The balance control system has detected an imbalance and is attempting to redress this by repeating the spin.
Residual water in the compartment for care products.
– Not a fault: the action of the care product is not affected.
– Clean the compartment if necessary
Odour formation in the washing machine.
– Run the progrmme  without laundry. Use standard detergent.
Status display Wash flashing. The appliance has detected a detergent overload.
– Too much detergent used?
If the foam is escaping from the detergent drawer: mix 1 tablespoon of fabric softener with 1/2 liter of water and pour into compartment II (not with outdoor or down fabrics).
– Reduce the detergent dosage for the next wash cycle.
Intense noise formation, vibrations and "wandering" during the spin cycle.
– Are the appliance feet fixed? Secure the appliance feet
– Transportation safety devices removed? Remove transportation safety devices
Display panel/indicator lamps remain turned off while the machine is working.
– Energy-saving mode
– Power cut?
– Fuses triggered? Reset/change the fuse.
– If the fault occurs repeatedly, call customer services.
Programme sequence longer than usual.
– Not a fault. Unbalanced load detection system adjusts imbalance by repeatedly distributing the laundry.
– Not a fault: a foam detection system active; adds an additional rinse cycle.
Detergent residues on the laundry.
– Occasionally, phosphate-free detergents contain water-insoluble residues.
– Select  or brush out the laundry after washing.
If you cannot correct a fault yourself or if a repair is necessary:
– Turn the programme selector to Off and remove the mains plug from the socket.
– Turn off the water supply and call customer services