Bosch washers are considered to be one of the most reliable and functional in the world. Buyers pay the special attention to Bosch Vision 300 series washer. The key advantages that characterize the brand's device:
a high level of power, which meets the needs of a large family;
excellent energy efficiency indicators, which allow saving both electricity and water;
silence during work that is especially important in an apartment;
excellent cleaning performance. Also, there is a program that eliminates bacteria with almost 100% efficiency;
positive customer feedback.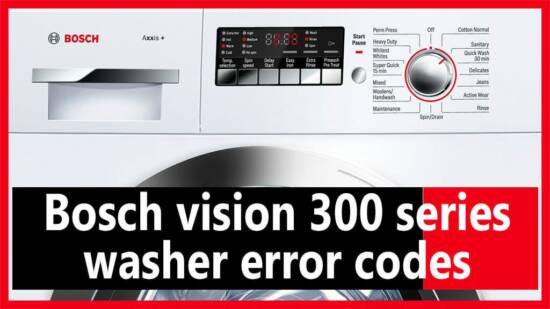 But even such a wide arsenal of merits can't save the device from breakdowns and malfunctions. Bosch Vision 300 series shows error codes in different situations. The problems are related to:
the way a user operates the appliance;
failure of parts and components.
If you don't understand what a certain code means, check the table below. Find the error, which your washer shows on the display. Having determined the specific cause of the code occurrence, proceed to the next task. You have to decide whether you need a professional help from washer specialist or not. Perhaps, you can fix the error independently by adjusting the washing process parameters.
Problem
Possible cause
Remedial action
Dryer does not start. "Start/Pause" indicator light does not illuminate.
Main plug not inserted at all or not inserted correctly.
Insert main plug correctly.
A fuse or circuit breaker has tripped.
Replace fuse or reset circuit breaker.
"Start/Pause" button not pressed.
Press "Start/Pause" button.
No program selected.
Select program.
Door not closed.
Close door.
Ambient temperature below 41 °F (5 °C.)
Increase room temperature.
Laundry is wet after drying.
The shut-off valve is closed.
Open the shut-off valve.
Cycle has been interrupted. A warning signal is emitted and the display shows "CLn".
Lint filter dirty.
Clean the lint filter. Switch the dryer off/switch on again. If this does not clear the error code
Cycle has been interrupted. A warning signal is emitted and the display shows "E:12"
Exhaust air duct is blocked or too long.
Clean exhaust air duct. Reduce exhaust air duct to maximum length. Switch the dryer off/switch on again.
Fault in program sequence or malfunction.
Switch off dryer, leave to cool down for 30 min, switch on again.
Restart program.
The room/cabinet is not adequately ventilated.
Provide an adequate supply of fresh air. Switch off/switch on again.
Degree of drying has not been reached or the drying time is too long. Display may indicate E:03.
Moisture sensor dirty.
Clean moisture sensor. Switch the dryer off/switch on again.
Exhaust air duct is blocked or is too long.
Clean exhaust air duct. Reduce exhaust air duct to maximum length. Switch the dryer off/switch on again.
Lint filter dirty.
Clean filter. Switch the dryer off/switch on again.
Laundry was too wet.
Spin laundry at higher speed in the washing machine. Switch the dryer off/switch on again.
Unsuitable program selected.
Select program with aid of the program selection table. Switch the dryer off/switch on again.
Maximum drying time was exceeded.
Clean lint filter.
Check exhaust air duct. Spin laundry at a higher speed in your washer.
Motor limit temperature was exceeded.
Switch off dryer, leave to cool down for 30 min. Switch on again. Start program.
Degree of dryness not correctly set.
800 Series, Change settings for degree of dryness.
Drum light does not function.
No program selected.
Select program.
Light bulb defective, light bulb burned out.
Replace burned out bulb and reinstall the cover
No power supply.
Check power supply.
Light bulb is loose.
Remove the bulb cover and if bulb is loose, tighten bulb. Reinstall the cover.
"Start/Pause" indicator light does not illuminate. "Wrinkle Block®/Finished" indicator lights. The display shows "OOO".
Fault in program sequence or malfunction.
Switch off dryer, leave to cool down for 30 min, switch on again. Restart program.
Lint filter LED is blinking after the lint filter has been cleaned
Blinking of lint filter LED is not an indication of a problem. It is used only as a reminder.
No action required. Light will stop blinking.
Display shows "—".
Laundry detected in drum during wool program (laundry not on rack).
Place laundry on dryer rack. Restart program.
Unusual noise: thumping sound
Drum suspension rollers need time to warm up.
No action required. As suspension system rollers warm up thumping will decrease and should stop within 2 to 3 minutes of dryer use.
Unusual noise: Steady vibration, rocking of the dryer
Dryer is not level.
Level the dryer
Unusual noise: Rhythmic vibration
Laundry balled up causing load to bounce.
Stop dryer, separate load items, restart dryer.
Water is not sprayed into the unit during Steam cycles
Water tap(s) not turned on.
Turn on water tap.
Nozzle does not spray water adequately.
Wipe the outside of the nozzle with a cloth moistened with vinegar. If this does not restore the nozzle to spraying, see "Blocked nozzle" remedial action below.
Blocked nozzle
Remove the nozzle using a 7/16 inch (11 mm) socket wrench. Place the nozzle into a container filled with enough white vinegar to cover the nozzle. Allow the nozzle to soak for five minutes, then scrub the nozzle tip gently with a toothbrush to remove residue. Rinse the nozzle and reinsert it back into the dryer and hand tighten, then tighten 1 additional turn with the wrench.
LED or button illuminated on control panel when Cycle Selector is turned to "Off" position
Fault condition
Turn off the circuit breaker