Bosch washers have proven themselves as the best offers on the market. Bosch Vision 500 series attracts many buyers. This is a high-performance, multifunctional and energy-efficient unit. The washing machine of this model combines the next points:
low noise level;
spaciousness;
wide choice of washing modes;
high spin speed.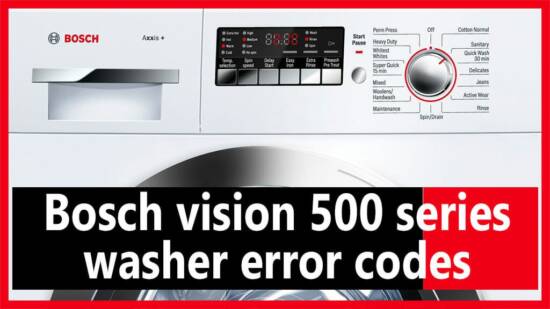 Due to the features, users select Bosch Vision 500 series model for houses and apartments.
But, even so popular device sooner or later may need repair or professional help. Bosch Vision 500 series washer informs about error codes. They display them on the LED screen. Sometimes it is rather difficult for users to understand what has broken or failed. If you're in the same situation, the table below will be a great relief of your problem.
The full list of errors and their decoding is the best way to understand the problem. Then, you have to decide whether it is worth contacting the service center or not.
Fault
Possible cause
Action
Cycle duration extended.
This is not a fault.
The suds detection feature has activated an additional rinsing cycle to reduce the amount of suds.
Add a more appropriate amount of detergent.
This is not a fault.
The unbalance compensation system is attempting to balance the load through repeated spins.
Always load the drum with large and small items together.
This is not a fault.
The laundry load may be large, requiring more time.
Allow additional washing time for larger loads.
The door cannot be opened.
Power failure.
An interrupted cycle will be resumed when power is restored. If the laundry is to be removed during a power failure
Cycle is running and/or the door is locked for safety reasons.
Wait until the cycle ends
Plug is loose or not inserted.
Eliminate the cause.
Cycle selector turned to Off before end of cycle.
Select a cycle.
Door cannot be opened, even though the appliance has been switched off and on again.
For safety reasons the door has been locked because the water level, temperature or high drum speed.
Control lights do not light up.
A fuse has blown.
Reset circuit breaker.
Power failure.
An interrupted cycle will be resumed when power is restored. If the laundry is to be removed during a power failure
Cycle does not start. Start/Pause indicator light flashes.
Start/Pause button not pressed.
Press the Start/Pause button.
Cycle does not start. Indicator light "Finished" is lit and display is flashing "E:0r
Door not closed properly.
Check whether laundry is trapped in door.
Close the door (a click should be heard), cycle continues.
Cycle does not start. "Real Time delay" is indicated in the display field.
End time selected and activated.
None. Appliance starts automatically.
Spin speed cannot be selected.
Spinning is already in progress; during spin cycle the speed cannot be changed.
Select speed before spinning.
Detergent residue in the detergent dispenser.
Detergent was damp or lumpy.
Clean and dry the detergent dispenser.
Use the cap of the detergent bottle to measure liquid detergents.
Water does not enter the machine or detergent is not washed away. Indicator light "spin" is lit and display is flashing "E:11″ or "E:12".
Water faucet not turned on.
Turn on water faucet. Cycle continues.
Supply hose kinked or pinched.
Eliminate the cause.
Strainers in supply hose clogged.
Clean the water inlet strainers
Aquastop® Hose safety feature activated.
Check for safety indicator. If red, replace hose.
Water pressure too low.
Eliminate the cause.
Water cannot be seen in drum.
This is not a fault.
The water level is below the visible part of the drum.
Washing solution has not drained completely.
Indicator light "rinse" is lit and display is flashing UE:13" with no water remaining in the drum
Suds
Use less detergent for future wash loads. Detergents specifically designed for your High Efficiency washer produce fewer suds and will include the letters "HE" on the packaging.
Pump is blocked
Clean the water drainage pipe and/or drain hose.
Water is flowing out from underneath the machine.
The thread of the supply hose is not tight.
Tighten the thread.
Leak in the drain hose.
Replace the drain hose.
Suds coming out of the detergent dispenser.
Too much soap or non-HE soap used, pump could not remove suds.
Mix 1 tablespoon of fabric softener with 1 pint (1/2 liter) of water and pour into the detergent compartment (do not do this with outdoor (waterproof) fabric)
Use less detergent for future wash loads. Detergents specifically designed for your High Efficiency washer produce fewer suds and will include the letters "HE" on the packaging (look for the "HE" symbol).
Repeated spinning.
This is not a fault.
The unbalanced load detection system is attempting to balance the load through repeated spins.
Always load the drum with several large and small items together.
The laundry was not spun. (Laundry is still wet).
Load size too small.
Add more laundry.
The laundry was not spun. (Laundry is still wet).
Large items of clothing have become entangled and could not be distributed evenly in the drum. For reasons of safety the high-speed spin cycle was automatically prevented.
Always load the drum with several large and small items together.
Excessive suds due to too much detergent, non-HE detergent used
Mix 1 tablespoon of fabric softener with 1 pint (1/2 liter) of water and pour into the main detergent dispenser chamber; reduce the amount of detergent used; use HE detergent, (look for the "HE" symbol).
Unsatisfactory washing result.
The degree of soiling was higher than estimated.
Select suitable cycle or Stain removal as an additional option.
Not enough detergent.
Add detergent according to the manufacturer's specifications.
Detergent residue on the laundry.
Some phosphate-free detergents contain water-insoluble residues that may appear as light spots on the laundry.
Brush off spots when laundry is dry.
Gray residue on the laundry.
Dirt accumulation from ointments, fats or oils.
Add the maximum amount of detergent and select the highest permissible temperature.
System shakes or shudders when passing from lower to higher speed spinning.
Drum system suspension can shift during speed up, this is not a failure.
Mix small and large laundry pieces in load to minimize this effect. Make sure the unit is level