The e12 error code in Bosch washer means that the time of waiting for water to enter the washer has been exceeded. Various Bosch washer models have a different response time and errors displaying. Anyway, as a rule, it is up to 5-6 minutes.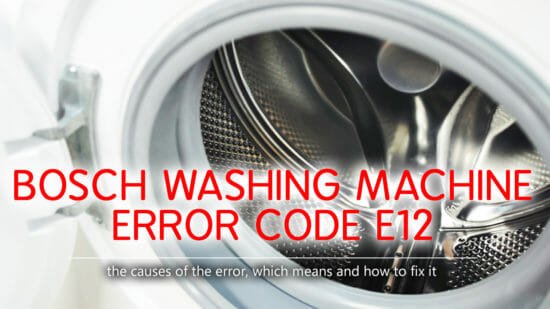 Very often in some models of washers, the e12 error code is identical to the e11 one. Therefore, the same as e11 error, the e12 one means that the tank does not receive water.
Reasons for it:
The water tap is closed.
The washing machine water hose is pinched.
The filter inside the water supply hose is clogged with debris (rust, plaque, etc.)
The AquaStop system (leakage protection) is out of order. It gives a false alarm and blocks the water.
Short circuit in the wires.
Fix the e12 error in the Bosch washer
Start troubleshooting with the simplest methods. So, check if there is water in the water pipe and if there is enough water pressure.
Next, inspect the outside of the water supply hose. If it's all right, unscrew it from the washer, and clean the inlet part of the filter.
The e12 error caused by AquaStop activation
Any AquaStop valve will block the water supply to the washer and turn it off for the next reasons:
There is a rupture of the filler hose connected to the body of the unit. The hose can also break and burst, or be cut with a sharp object.
There is a leakage of water inside the body of the device due to the failure of any part.
Sometimes AquaStop demonstrates a false trigger. There is no leakage, but the device still urgently drains water and does not start washing. In this case, check these details for functionating:
an electronic control unit of the washer;
the sensor of protection against water leakage.
How to check the AquaStop safely
The very best option when the system of protection against water leakage triggers is to disconnect the washer from the mains. Be sure to entrust the AquaStop inspecting to an experienced repair technician!
When you start checking the washer without professional help, remember the safety rules!
It is safe to check the AquaStop as follows:
With dry hands, disconnect the plug of the washer cable from the electrical outlet.
Completely close the water supply tap to the unit.
Drain water from the washer.
Open the hatch and get out the linen.
Check if there is water in the washer tray.
The pallet is a metal or plastic container with a water sensor mounted in it (a "float" with an electric microswitch).
If the pallet is dry, you need to refer to the instructions. Find the section that describes what to do in case of the "Leakage" error.
If there is water on the pallet, not delay the problem. Ask for help in a reliable and legally working service center! In case of leakage, only the qualified specialist can find the causes for failure and repair the item.