If the e57 error code appears on the display of the Bosch washing machine, it means that:
the engine control module has burnt
the motor has failed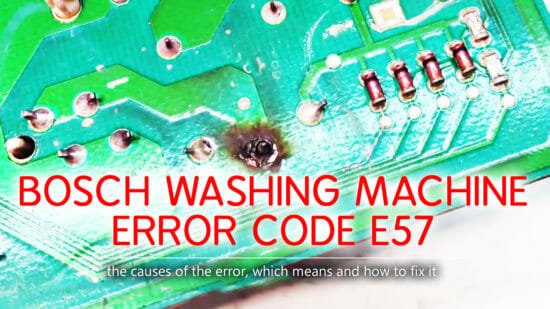 To start with, disconnect the washing machine from the mains for 15-30 minutes. Then re-enable it. Perhaps there was an ordinary failure in the Bosch washing machine. In this case, e57 or f57 error codes won't appear during the next running.
What does if the error code in the Bosch washing machine returns?
Of course, the best way, in this case, is to call a specialist. The point is that the engine or a control board of Bosch washing machine are not cheap parts. And in order not to make the situation worse and raise the cost of repairs, call the service center.
According to the seasoned masters, if there is an e57 or f57 error code, in 80% of cases the problem is related to the motor control board. But do not rush to buy a new one for your Bosch washing machine. When you solder the components of the board, they may be damaged as a result of the strong vibrations of the machine. Therefore, you need to monitor the correct and stable installation of your washer. In many cases, an experienced master can bring the device back to life. It will significantly save your budget. Think before you start an independent repair. Remember that the new electronic unit is quite expensive.