Each and every Siemens dishwasher meets technical requirements of a modern kitchen. The manufacturer always uses only quality materials and high-level developments for the assembly of the household appliances. The design is quite complex, so if you detect any malfunction, we advise you to contact the professional promptly.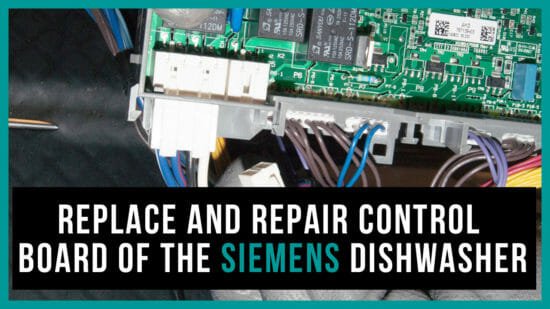 Now we will consider main reasons of malfunctions of Siemens dishwashers and the steps of replacing the control board.
The main reasons for the dishwasher failure
Mishandling of the Siemens dishwasher. It is one of the main causes of appliance breakdowns. The mishandling includes improper cleaning and using wrong cleaning products. Moreover, clogging with the remains of food or cloth may cause a failure.
Too hard water. The dishwasher is a water-based appliance. The quality of work and service life of the Siemens dishwasher depend on it. Hard water contributes to the scale formation affecting the heater.
Improper installation (a hose being too long, rough floor etc.) Even a small flaw can cause substantial damage to the appliance.
The fault of the control unit due to a power failure.
Moisture penetrating into the control system. Use the appliance in a dry and well-ventilated place.
How to replace and repair the control board of the Siemens dishwasher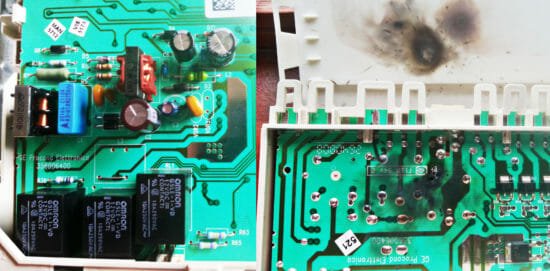 The control unit, like any other component or part of the dishwasher, may fail. The unit and its board control the work of all hardware of the appliance and the program implementation. If the module fails, the program will crash, the dishwasher won't heat any water etc. To repair this element you need to check the entire control system.
It is important! Control board repair, as well as its replacement, is a rather complex process requiring specific knowledge and tools. So if you have detected any faults, we advise you to consult a professional.
The other reasons for the failure of the control module are short circuit, overheating, and mechanical damage of the board. If that's the case, you need to replace the control board.
Take out the control unit and check it for any visual signs of damage. The board is located in the door of the dishwasher (it depends on the type of the appliance).
Gently disconnect all the wires and elements.
Do not throw away the burned board. You'd better show it to the specialist to determine the cause of the failure.
Each type of the Siemens dishwasher has a unique board. Connect the previously purchased board and reassemble the control unit.
Install the unit in the reverse order. Then turn on the machine and check its functionality.