With the help of switches, the control board receives signals regarding the program setting cycle. During the cycle, the water temperature is monitored through the NTC sensor, as well as the rotational speed of the washing pump according to the signal received from the tachometer generator. The module monitors the state of the pressure switch and rinses the salt regeneration sensors.
If you open the door on the control panel, you will see keys and indicator lights:
Enter the dishwasher diagnostic mode
Turn off the device with the power button
Press and hold the S1-S3 buttons simultaneously.
Press the S0 key to switch the device, still holding down the keys S1-S3
LEDs LD1, LD2, and start LD3 flash about 4 seconds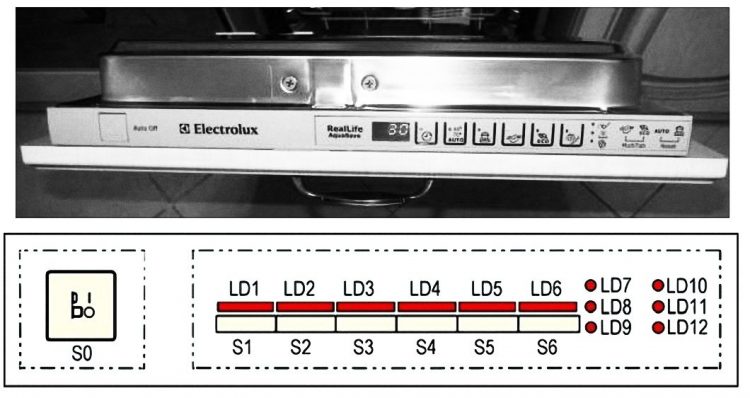 Reading signals and activating individual components
Press the S1 button to start the function:
The LEDs LD2 and LD3 of the switches and LD1 continue to flash.
The indicator of a program cycle finish starts blinking, with pauses of 2 Hz / 5 seconds between each series with a buzzer.
In case of a fault, decipher the error code according to the table (Electrolux dishwasher error codes)
Press S1 again to display the second signal.
Press S1 again to display the third alarm.
Press S1 for the fourth time: the system proceeds to activate and check various devices.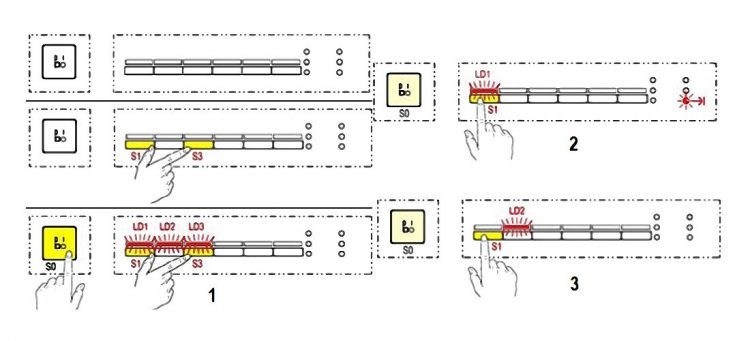 LED LD2 flashes, indicating that the reading of the signals has been completed and the components are currently being tested.
Check serviceability of components
Press the S1 button to activate the following devices:
4 push: solenoid valve regeneration
5 push: drain pump
6 press: water filling to a predetermined level
7 press: heating (only in case if the water level is OK)
8 push: washing pump
9 press: detergent for rinsing – dispenser
10 press: drying fan (if turbo-dry)
Each of these actions can be repeated by pressing the S1 button sequentially.
If a problem occurs, the program stops running
Try to reset the program (press the start button for 3 seconds or select the program depending on the brand), disconnect from the socket
if the error occurs again, find out the reason for it
restart the program and check it for serviceability
If a malfunction occurs, a code is displayed on the screen.
If there is no screen, read the code by the number of flashes of the END LED.