What if you start the dishwasher mode, but it stops at the draining stage? The control panel does not react to pressing, water does not drain from the hopper. Along with that, the E24 error appears on the Siemens dishwasher display. The decoding of the problem sounds like this: water drain failure.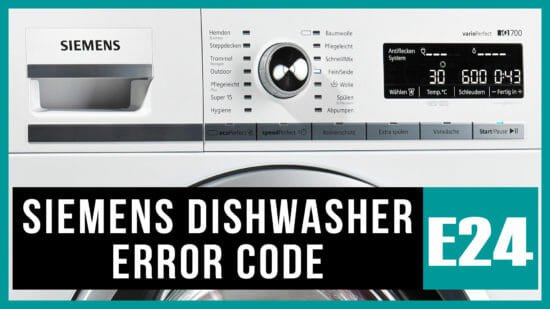 The reasons for the e24 error in Siemens dishwasher
In case of a malfunction in the system, the technique immediately displays the error code. Depending on the failure type, the code value can differentiate.
If the connection to the communications is correct, and the hose wasn't moved, then the case may be in:
faulty level sensor;
breakdown of the drain pump;
error or failure of the electronic board.
How to fix the problem
Immediately eliminate the failure in the system. To do this, try resetting the error by rebooting:
unplug the dishwasher from the mains;
wait 10-15 minutes;
try restarting.
The machine can show the E24 code on the screen again. In this case, it's not a malfunction, but a failure. So, clean up the drainage system:
Open the tank door.
Remove the basket for the dishes.
Unscrew the drain filter, and rinse it under the water pressure.
Find the pump impeller behind the filter. If there is a lot of garbage, then there will be no drain.
Remove the screws and pull the pump cover toward you.
Wear gloves and clean the impeller.
Then unplug the drain hose and clean with a brush.
Check the sewer and hose joint. You can remove blockage using special means.
Provide such cleaning at least once a month.
Next, inspect the pump. What to do:
Remove the screws and remove the side and top panels.
Disconnect the lower bar under the dishwasher door.
Turn the machine "on its back" or upside down.
Remove the lover cover of the bottom. To do this, unfasten the latches, or remove the screws.
The drain pump is attached to the side of the circulation unit.
Disconnect the wiring from the part.
Hold the part with your hand and rotate it counter-clockwise.
Check all pump openings for obstruction. Also, inspect the drainage pipe.
The reason for the E24 fault appearance on the display is not only a blockage. Sometimes the impeller stops rotating due to the poor rotor performance. If water gets inside, the grease is washed out of the bushings. Check and grease the parts.
Users on forums recommend to open and close the device door while working. The code won't appear on the screen again, so you can continue washing. But even the error resetting won't solve the problem. Subsequently, your dishwasher will need expensive repair works.