If Siemens dishwasher shows the E25 error on the display, it informs the user of a system malfunction. This time, the dishwasher does not drain water.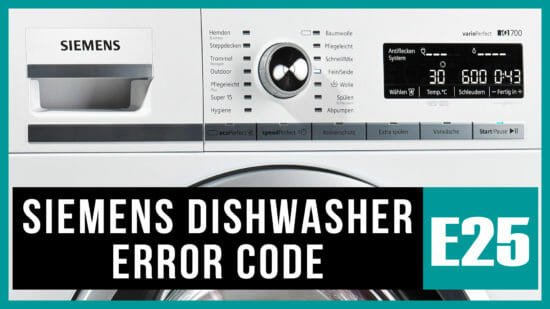 The meaning of the Е25 error in Siemens washing machine
In the instructions for the dishwasher, the decoding is as follows: the drain failure. Drain pipe or pump clogging can cause the error code. The impeller may be blocked, so draining does not occur.
Often, food debris, small bones, toothpicks, napkins, and shards of dishes can lead to the failure. These objects block the work of the impeller.
Even if you carefully clean the plates, but never clean the drain, a fat plug can form. As a result, water will not pass through the nozzle, so the system can show the E25 error code.
How to fix the problem
If this is not a system failure, then it will be necessary to clean it. But first try to reset the error:
disconnect the dishwasher plug from the socket;
wait 10-15 minutes;
try restarting.
If the icons appear on the screen again, then it's not a software failure. It is about a technical malfunction.
Open the chamber door.
Remove the bottom basket.
With the help of a sponge or other means, drain water from the pan.
Unscrew the drain filter. Rinse it under the pressure of water.
Remove the screws securing the pump cover.
Pull the damper towards you and remove.
Clean the impeller from the litter.
If these actions doesn't help, and the Siemens system still issues the error, check drain hose and the branch pipe. How to do it:
Disconnect the equipment from communications and electricity.
Move to a more spacious place and drain water (if it has left).
Turn the machine over the back and remove the bottom.
Loosen the clamps and disconnect the drain hose and hose.
Clean the parts under the water pressure.
If the pump impeller breaks, you can replace it at home. But if the winding has burnt out, then you need to completely change the element.