A heating element brings water in a dishwasher to the optimum operating temperature. If this part fails suddenly, the functionality of your appliance will be reduced to zero.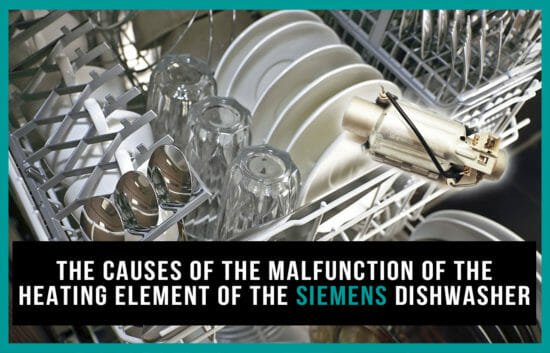 How to identify the signs of the failure
In case of failure of the heating element, the water isn't heated enough for the appliance to work. It should be hot for maximum effectiveness. You can identify the fault if you stop the cycle in the middle. If the dishes are cold, the water is not warm enough. So you need to replace the faulty heater as quick as possible.
According to statistics, the heater fails mostly due to the following reasons:
the poor water quality resulting in inside limescale formation;
strong wear;
a breakdown;
the overvoltage resulting in a short circuit.
How to check and replace the heating element of the Siemens dishwasher
Before any heating element repair work, disconnect the appliance from all utilities including the sewer. Since the heater is connected to the mains directly, pull off the plug from the wall outlet. Only after this, you can proceed with the replacement itself.
You need a large screwdriver for loosening the housing bolts, a little for releasing the clamps, and a wrench.
The heater is beyond repair. That's why it needs to be replaced. You can order this part in a specialized service center. This is the way to protect you from many risks.
The steps are as follows:
Remove the screws on the protection cover or the back panel of the housing;
Locate the heating element (it looks like a single spiral tube) and disconnect it;
Install the new heater in the reverse order;
Put the protective cover or the back panel in place and screw it;
Check the new heater, running the cycle. The water temperature should be appropriate. As a rule, it is quite simple to identify. If everything is OK, the door will be warm.